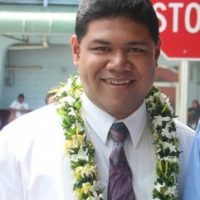 The House approved today Governor Lolo Moliga's new appointees to the Board of Directors of the American Samoa Economic Development Authority (ASEDA).
The confirmation hearing for the three nominees was held last Thursday before the House Commerce and Economic Development Committee, chaired by Rep. Samuel Ioka Ale Meleisea.
Chief Procurement Officer, Dr. Oreta Crichton and Director of Public Works, Faleosina Voigt were approved by unanimous vote, 12-0, while Deputy Director of Commerce, Uili Leauanae was confirmed by a vote of 11-1.
The three were confirmed by the Senate last week so they are now cleared to serve on the ASEDA Board.
Chairman Meleisea said he will call a hearing soon to bring all the ASEDA board members to update the House on several critical issues.
Last week, Rep. Timusa Lam Yuen called for a report from ASEDA on how the bond money has been used and how repayment of the bond debt is progressing.