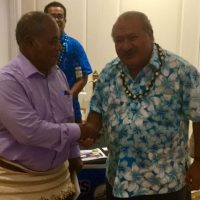 The chief executive officers of the Aotearoa Tonga Forestry and the American Samoa Shipyard Services Authority say the purchase of power poles and lumber by American Samoa from Tonga puts into reality something that has been discussed for decade without any concrete action…trade between the islands.
Like ASPA,  the Shipyard Services Authority has signed an agreement to purchase lumber from the Tongan company to be used for repair and salvage operations at the shipyard.
CEO of the Satala shipyard Moefaauo Bill Emmsley said this is a step in the right direction and the shipyard benefits.
Play Audio
The CEO of the Aotearoa Tonga Forestry said the ship bringing lumber for the shipyard and power poles for ASPA can bring other commodities needed here.
Play Audio
Tags: