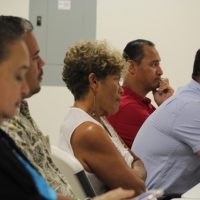 Yesterday we reported on the decline in the number of business licenses issued this year compared to before the increase in business license fees went up in 2015.
Reasons for the decline are presented in the Department of Commerce Third Quarter Performance Report.
In 2013 there were 3,416 businesses licenses registered.
The following year there were 4,678.
But in 2015 when there was a 500 percent increase in the cost of business licenses the number of licenses issued dropped 18.5 percent , to 3813. Last year the number slipped even further to 3037, a 20.4 percent drop. Up to June this year there were only 2,696 business licenses issued .
ASG revenues from business licenses also dropped.
Revenues from business licenses for the 2696 businesses that were licenses up to June 30 came to $436,481. When compared to last year's revenues from business licenses, that's a drop of 112,611 or 21 percent.
According to the report by the Economic Development Division of DOC, reasons for the decline are:
Unsuccessful bids for the DOE School Lunch Program (farmers bidding for the School Lunch Program were required to have a business license)
No decision on small business credit initiative,
Business loans denied by DBAS and ANZ.
Applicants moved off island for medical reasons
Applicants joined the us armed forces
Business transfer of ownership
Business relocation
Term of lease expired and not renewed by landlord or owner of building
commercial taxis and buses beyond repair or inoperable and no longer in service.
Tags: