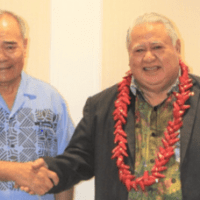 The two Samoa talks have been scheduled for early October in Apia after a closed door meeting between Governor Lolo Moliga and Prime Minister Tuilaepa Sailele Malielegaoi  in Apia yesterday afternoon.
Both leaders would not discuss the issues raised at their meeting except to confirm they had agreed to proceed with the talks in October.
Tuilaepa said in a press release that all will be revealed after the talks in Apia.
According to the release, outstanding issues expected to be discussed include Trade and Economic Integration, Agriculture, Immigration, Health, Education, Transport, Telecommunication, and Tourism.
In terms of exports, Samoa remains optimistic that American Samoa will assist with its request to the United States Department of Agriculture to certify the two mobile abattoirs and the soon to be built permanent and Central Abattoir seen as an entry way to opening up the lucrative meat export markets to the United States via American Samoa.
The territory's ban on taro from Samoa remains in place despite Samoa officials furnishing the results of lab tests form Germany clearing local taro from any threatening disease.
Communications issues are also expected to be on the meeting agenda.