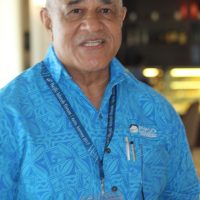 The chairman of the board of the Pacific Islands Private Sector Organization, PIPSO, has praised Samoa for including a dialogue between leaders of the Forum and the private sector at this year's meeting of the Pacific Islands Forum.
The second session of the 48th meeting of Forum leaders in Apia was the Private Sector Dialogue with Leaders.
Chairman of the PIPSO Board, Mr. Howard Politini said Samoa should be commended for changing the format of this year's Forum to ensure a discussion between leaders of member countries and the private sector,
Earlier this morning was the civil society organizations' engagement with leaders.
This is the first time the Forum has opened its sessions to include other groups, an initiative by Samoa Prime Minister Tuilaepa Sailele Malielegaoi, the chairman of this year's meeting.
According to Mr Puletini, PIPSO asked that international funding for climate change and the environment be made accessible for small community projects, not just large scale ones.
Play Audio PIPSO-chairman