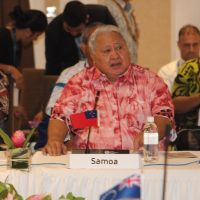 Samoa Prime Minister Tuilaepa Sailele says there's been no decision made regarding American Samoa joining the Tui Samoa Cable.
He told KHJ News in Apia that the matter will be discussed when he sits down with Governor Lolo Moliga for a face to face meeting today.
ASTCA interim CEO Puleleiite Tufele Lia Jr., said in an interview with KHJ News a week ago that ASTCA will be signing on with Tui Samoa Cable.
This new submarine cable is due to go online in January next year,
Puleleiite says a financing arrangement is being negotiated with Samoa Submarine Cable Company , which will oversee the Tui Samoa cable.
Its no secret that ASTCA is in financial strife and funding the spur to connect American Samoa to the Tui Samoa Cable would be a challenge.
According to Puleleiite, ASTCA is proposing a lease arrangement with delayed payments for about 6-7 months.
The chairman of the Board of Samoa Submarine Cable Company, Pepe Christian Fruean said he's not ready to talk to the media at this stage.
When Prime Minister Tuilaepa was asked if Samoa would agree to the financing arrangement proposed by ASTCA, he said he knew nothing about this.
But he said the matter will be discussed in his meeting with Governor Lolo today.