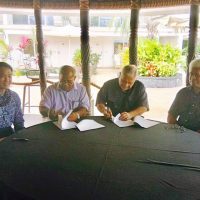 The American Samoa Power Authority and the Ronald Reagan Marine Railway have signed agreements with a Tongan company, Aotearoa Tonga Forestry, that will supply power poles for ASPA and timber for the shipyard.
ASPA Executive Director Utu Abe Malae says the purchase agreement puts into practice the MOU that then Governor AP Lutali signed with the King of Tonga more than 30 years ago.
It was around that time that the trees from which the poles were made were planted.
Play Audio
Signing on behalf of ASPA were Chairman of the Board Fonoti Perelini Perelini, Utu and Managing Director Paul Young.

The chairman of the Board of the Tongan company, Soane Ramanlal and CEO Penisimani Vea, signed for Aotearoa Tonga Forestry.

A similar agreement was signed by the Chairman of the Board of the Shipyard Services Authority Keniseli Lafaele and CEO Moefaauo Bill Emmsley with officials of the Tongan to supply timber that will be used by the shipyard for their salvage and repair operations.

Tags: