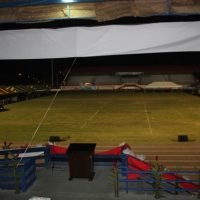 All's set for the Workforce Appreciation Day tomorrow, an event to honor and thank the territory's labor force, both in the government and private sector.
The event takes place at the Veterans Memorial Stadium starting at 7am.
The program  is similar to the schedule of events for the official flag raising ceremony, but shorter.
Prayers will be offered by Reverend Lemmy Seumanu of the Manumalo Baptist Church ,  and the choir from the same Church will sing hymns.
The Boy Scouts of America, of the Church of Jesus Christ of Latter Day Saints, represented by Paepae Pati Simi will raise the flag of the US together with a local fisherman, not yet named on the program.
Sosene Asifoa Jr, from the same LDS Boy Scouts hoists the American Samoa flag with a local farmer.
The singing of the US and American Samoan anthems will be performed by members of the Manumalo Baptist Church and Paramount Builders: Aitulagi Wanda Lei Alofa, Georgina Alofa and Dorvida Fuiava.
The English version of the  Workforce Appreciation Proclamation will be read by Talaleu Carol Tautolo Samuelu, General Manager of Operations McDonald's American Samoa.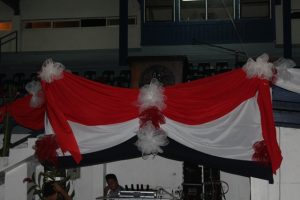 While Shirley Fruean Tanielu General Manager of Nana's Inc will read the Samoan proclamation.
That will be followed by a presentation by private sector partners.
The crowd of more than 6,000 expected tomorrow will hear remarks by Governor Lolo Moliga, after which guest speaker Utu Abe Malae, Executive Director of the American Samoa Power Authority, will give his speech.
There'll be a 21 gun salute by a police honor guard after a moment of silence to remember employees who died in the past year.
All departments and agencies, and businesses taking part tomorrow will parade around the stadium and a few departments will also have floats.
There'll be games coordinated by DOE and the Department of Youth and Women Affairs.
The finale is entertainment by the Territorial Administration on Aging Office and Nana's Company inc.
The final remarks for the day come from Lt. Governor Lemanu Peleti Mauga.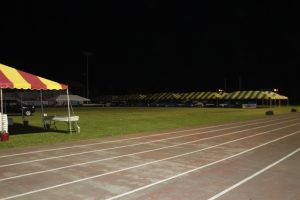 The day concludes with a prayer by Rev Malaki Timu of the Governor's Office and the singing of Lota Nuu,
The Organizing Committee, headed by Director of Human Resources, Mrs Eseneiaso Liu, plasn to wrap things up by noon.
The Labor Day for the rest of the territory, is Monday, September 4, a federal and ASG holiday.
Those receiving paperchecks are to get them at the Stadium tomorrow while direct deposits will be in at midnight Friday.