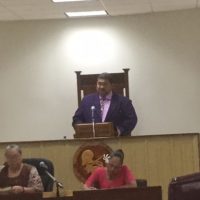 Vaifanua lawmaker, Rep. Lavea Palepoi Mauga, caused a bit of stir during the House session on Tuesday when he said that Leasina faipule Gafatasi Afalava should not be sitting on the Board of Immigration as he hasnt been confirmed by the Senate
Rep. Lavea said he's learned that the faipule has been attending Immigration Board meetings and asked if Gafatasi has been confirmed by the Senate.
Speaker Savali Talavou Ale interrupted Lavea saying he shouldn't be talking about this matter in the House.
Lavea said he was trying to protect the integrity of the Speaker amd House members and do what is right.
The Immigration Board includes two members of the Fono, one from the House and the other from the Senate.
Sua Senator Fa'amausili Mau Mau Jr. is the Senate's representative on the board and has already been confirmed by both chambers.
House Speaker Savali said he thought Lavea was going to talk about revenue measures currently before his Ways and Means Committee and suggested that the confirmation of Rep. Afalava be left to the discretion fot he Senate .
Rep Vui Florence Saulo felt that the query about Gafatasi's membership on th Immigration Board was personal.
She said when she was the chair of the House Immigration Board, Lavea made comments which she felt were personal opinions.
She guessed this is because of Lavea's close relationship with a high ranking official of the Immigration Office, which she didnt identify.
The Speaker interrupted her and said not to bring up these kinds of issues.
Rep. Lavea assured the Tuala-uta representative he was merely pointing out something that needs to be addressed as there are people monitoring their actions.