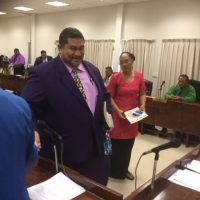 The usual House of Representatives session for today was aborted because Vice Speaker Fetu Fetui who was leading proceedings had to be taken to the hospital.
During the roll call by House Clerk Fialupe Lutu, Rep. Tuumolimoli Moliga walked up to the front of the room and spoke to the Vice Speaker, then led Fetu outside for some fresh air.
House Clerk Fialupe Lutu then called a five minute break.
Re-entering the room, Vice Speaker Fetu apologized to his colleagues for the interruption.
The House calendar was empty and Fetu said there would be no announcement unless there were hearings set for tomorrow.
The vice speaker was driven by a Fono employee to the hospital and was met in front of the Samoana High school by an ambulance.
His vital signs were checked by EMS staff before the vice speaker was taken to the hospital.
He was advised to go home and rest after he was checked ,
Since the Fono resumed last Monday, Fetu has been leading House sessions as House Speaker Savali Talavou Ale has been off island and is expected to return home tonight..
In other Fono news, on Saturday, Paramount Builders started demolishing the old Fono Building which housed the two chambers of the American Samoa Legislature for more than 4 decades.
Speaker of the House Savali Talavou Ale had said that there will be a short service conducted before the is demolished however that didn't happen.