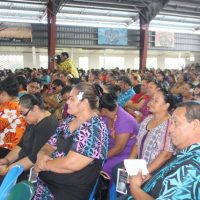 Custodian staff took the place of honor at a ceremony to open the 2017 /20128 school year for the Department of Education this morning.
The Tafuna High School gymnasium was packed to capacity with all DOE personnel from janitors to cooks, bus drivers, support staff to administrators and teachers.
All department directors were required by Governor Lolo to attend the ceremony.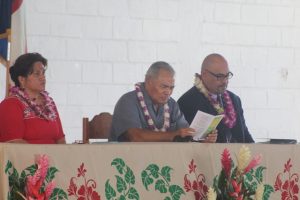 Rather than Teachers of the Year, who are usually recognized at the opening of the school year, Director of Education, Dr. Ruth Matagi Tofiga decided to have the custodian staff, the janitors, and bathroom monitors as the honorees.
At the opening which was led by an inspirational prayer by Rev. Iasepi Ulu of the Fagatogo CCCAS,  the group of World Teach volunteers, dressed in puletasi and ie faitaga and aloha shirts were given a special welcome.
Governor Lolo Moliga, who was the keynote speaker emphasize that the whole community has a part to play in the education of our young people.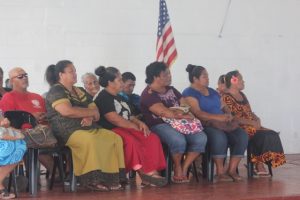 Director of Education, Dr. Ruth Matagi Tofiga, after giving thanks to all DOE personnel introduced new workshops which will be mandatory for all personnel.

Tags: