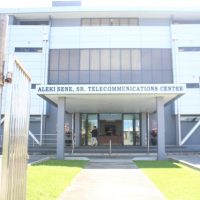 One of the first tasks of the new Board of the American Samoa Telecommunications Authority was to review personnel particularly the management and middle management level.
Interim CEO Puleleiite Tufele Lia Jr, spoke highly of the talents of ASTCA employees and said it was evident that some were underutilized.
But following the review, some long time employees of ASTCA, some of whom had retired and been rehired on contract were forced to retire and non performing ones were released.
Some managers were also reassigned.
The number of former Blue Sky employees who are now working for ASTCA or providing contractual services for ASTCA is one of the noticeable changes since Puleleiite took the helm of the government phone company,
Puleleiite was part of the Blue Sky management until just before he was appointed by Governor Lolo to be the chairman of the ASTCA Board.
A company belonging to Puleleiite's former boss at BlueSky, Aoee Adolfo Montenegro, is now contracted to provide consultancy services on telecommunications  matters to Governor Lolo Moliga.
Chuck Leota, a former BlueSky Sales Manager, has also joined ASTCA as a contractor through his company, Tekconnect.
The Interim CEO of ASTCA explained the services provided by Leota's company.
Play Audio
KHJ News asked why these services weren't advertised and bid out?
Play Audio
Tags: