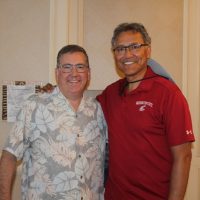 It was the "throwin' Samoan" Jack Thompson who got the President of Washington State University's ear to come here to promote WSU's educational programs.
WSU President Kirk Schulz leads a six member group which includes the former NFL star, one of the university's famous alums, visiting the territory this week.
President Schulz was appreciative of the warm welcome they received from Governor Lolo and Lt. Governor Lemanu Peleti Mauga who broke away from  a cabinet meeting this morning, to meet with them for 45 minutes.
Of particular interest to the WSU team is how their new School of Medicine can help train local medical personnel.
Thompson said the genesis for this visit is the annual June Jones Foundation visits to American Samoa that he was a part of.
Play Audio