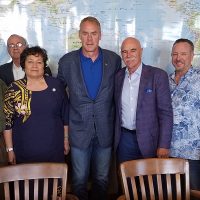 Today, U.S. Secretary of the Interior Ryan Zinke, sent a draft report to the president which included his findings and recommendations on national monuments that were under review as a result of the April 26, 2017 executive order by former President Obama.
American Samoa was one of the areas impacted by the expansion of the Pacific Islands Remote Area Monument by former President Obama.
The canneries, fishing boat owners and the local government have said that the move has reduced fishing grounds for the US tuna fleet that supply the local canneries,
A press release from DOI said the 120-day review included more than 60 meetings with hundreds of advocates and opponents of monument designations, tours of monuments conducted over air, foot, car, and horseback (including a virtual tour of a marine monument), and a thorough review of more than 2.4 million public comments submitted to the Department on regulations.gov [ http://regulations.gov/ ].
Additionally, countless more meetings and conversations between senior Interior officials and local, state, Tribal, and non-government stakeholders including multiple Tribal listening sessions.
The review was initiated by President Trump in order to restore trust in the multiple-use mission of the Department and to give rural communities a voice in federal land management decisions. In order to make the process transparent and give local residents and stakeholders a voice, the Secretary announced ]on May 5, 2017 the opening up of a formal comment period for the review, as the President directed.
This was the first time ever that a formal comment period was open on regulations.gov for national monuments designated under the Antiquities Act.
Secretary Zinke said, "No President should use the authority under the Antiquities Act to restrict public access, prevent hunting and fishing, burden private land, or eliminate traditional land uses, unless such action is needed to protect the object.*
He adds that the recommendations he sent to the president on national monuments will maintain federal ownership of all federal land and protect the land under federal environmental regulations, and also provide a much needed change for the local communities who border and rely on these lands for hunting and fishing, economic development, traditional uses, and recreation.
While the summary of Secretary Zinke's report doesn't make any mention of American Samoa and the impact that the expansion of the PRIM has on the local fishing industry Congresswoman Aumua Amata believes the report would bring reprieve for the local tuna industry,
Play Audio
The report summary can be read here [ https://www.doi.gov/sites/doi.gov/files/uploads/monument-report-summary.pdf ].