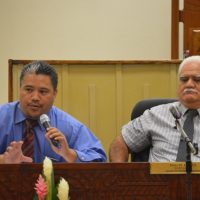 Lawmakers have stressed to the ASG Revenue Task Force that if collection is not properly enforced, no new tax measure will get the intended results.
This point was stressed during Tuesday's hearing of the House Ways and Means Committee concerning the bill to remove the 5% excise tax on imports for resale.
The 7% sales tax is intended to replace the 5% excise tax plus the 2% wage tax.
According to the administration's revenue package,  the 2% wage tax is to be abolished January 1, 2018, the same date that the 7% sales tax is to go into effect.
For all of 2018, the 5% will still remain.
Then it drops to 4% in  2019 and gradually goes down each subsequent year until it is fully abolished by 2022.
There were suggestions during the hearing that it would be easier for the government to collect the 5% excise tax at the point of entry than the sales tax.
Deputy Treasurer Keith Gebauer, responding to questions from Fofo faipule Fagaoatua Dorian Salavea,  explained how the sales tax would be collected.
Play Audio
That was the House Ways and Means Committee Chairman Lavea Legaee Mauga ending Fagaoatua's questions.

Tags: