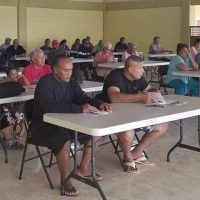 Today, Congresswoman Aumua Amata, who serves on the Veterans Affairs Committee, welcomed the signing into law of the Veterans Appeals Improvement and Modernization Act of 2017 (H.R. 2288), which she co-sponsored.
"Veterans in American Samoa and elsewhere can face frustrations and delays in getting their claims and cases resolved, and this bill makes important reforms so that they can get the answers they need from the VA," said Aumua Amata.
"I want to congratulate Congressman Mike Bost, the bill's sponsor, along with Chairman Phil Roe and the entire Committee, on this accomplishment for our veterans."
The Veterans Appeals Improvement and Modernization Act of 2017 improves the veterans' appeals process, giving veterans three ways to pursue the appeal, including having an adjudicator review the original evidence as considered previously, submitting new evidence for review followed by a new hearing, and finally, transferring their claim to the Board of Veterans' Appeals.
Aumua said, "It's been an effective month in Washington in making several useful changes for our veterans.
"The Veterans Affairs Committee began work on this bill back in May, and I'm so pleased to see it become law so that our veterans can begin to see results."
Earlier this month, the Congresswoman  hosted a Veterans Choice Workshop in American Samoa to help veterans and their families know their options.
The VA sent representatives of the VA's third-party administrator, TriWest Healthcare Alliance, to lend first-hand expertise to this beneficial informational session.
The congresswoman urges veterans to look into some of their options with the VA, including the Veterans Choice Program, which Congress acted recently to expand and fundand new programs and technology applications announced this month by the VA to improve veterans' means of scheduling and communicating on healthcare matters.