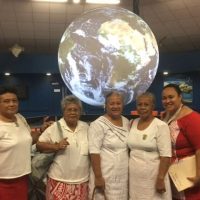 Its not just school children or cruise ship visitors who take tours of the Tauese P. Sunia Ocean Center in Utulei.
Yesterday saw elderly citizens from the Territorial Administration on Aging Office visiting the center.
The mothers and fathers kept staff of the National Marine Sanctuary of American Samoa on their toes with all sorts of questions.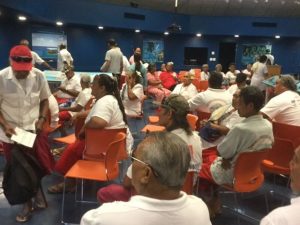 TAOA Director Mrs Evelyn Satele Lilio is starting a new activity for the elderly taking them on tours of various government facilities.

The elderly mothers and fathers were keenly interested in the underwater volcano, Vailuluu, in waters off Tau, Manu'a, the tallest single coral in the world, also found in the waters of Manu'a, as well as marine sanctuary sites.

Two of the TAOA participants, Tiena Tavahaga  and Toese Sefulu, said they were fascinated with the pictures they saw and explanations by sanctuary staff of the various sanctuary sites and marine organisms found in them.

They said the visit has given them a new appreciation of the marine environment and an urge to preserve these treasures for coming generations.

Tags: