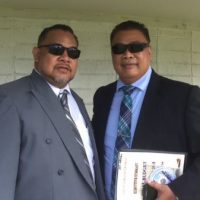 The ASG Revenue Task Force members faced tough questioning before the House Ways And Means Committee this morning during review of one of the five revenue bills designed to shore up collections for ASG's coffers.
This is the bill that would, among other things, remove the 5% excise tax, change the computation of  the tax on alcohol, and also  tax non carbonated sugary drinks the same as soda.
It was the proposed change to the tax on beer that attracted many of the questions and some emphatic statements from lawmakers.
The bill proposes to amend the beer tax from 190% to 35 cents per 12 fluid ounce.
The head of the ASG Revenue Task Force, Attorney General Talauega Eleasalo Ale is off island and the Treasurer, Ueligitone Tonumaipea and Deputy Treasurer Keith Gebauer answered most of the questions.
It was revealed that a beverage importer had made a complaint that another company was bringing in large quantities of beer and was selling them at a very low price.
It was alleged that this other company provided untrue invoices.
According to Gebauer, an investigation was carried out and found no evidence to support the allegations.
There were no names mentioned but it's understood that the complaint came from GHC Reid.
Representatives Veevalu Meauta Mageo, Fagaoatua Dorian Salave'a and Sam Meleisea were unrelenting in their questions about the reasons behind the change and how much the government stood to gain from it.
They also tried to pin down that the change was prompted by the complaint from this importer.
Gebauer elaborated that the Task Force identified that the beer tax was the only sin tax which was done by percentage rather than per unit, which is how all other sin taxes like cigarettes and soda were taxed.
He said the move was to standardize the sin taxes.
Asked how much money the government would make from the amended beer tax, Gebauer said there would be no change, not a drop nor an increase.
He said the 190% beer tax rakes in about $2 million annually.
Veevalu said he didn't understand why the government would make a change if there was no gain to be made.
Fagaoatua also asked, " does the government  support and who doesn't it support?"
At one point during the hearing, while Gebauer was trying to explain that the revenue measures also included bills to return money to the tax payers,  Chairman of the Budget and Appropriations Committee Vailiuama Steve Leasiolagi told him to answer the questions, and not beat around the bush.
Veevalu also told the deputy treasury and acting Chief of Customs, he didn't want to hear him repeat the return to the taxpayers statement again.  The Committee has decided to hold more hearings on the bill.