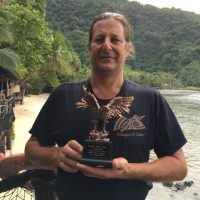 The US Army awarded a special plaque to a man who put his own life in danger to try and save a visiting army recruiter who encountered problems while snorkeling at Alega Beach earlier this month.
The plaque for Michael Shane Kirk, also known as Candyman, says "Thank you for your selfless act of heroism on 6 August, 2017.
Candyman tried more than two times to retrieve the body of Sgt First Class Albert C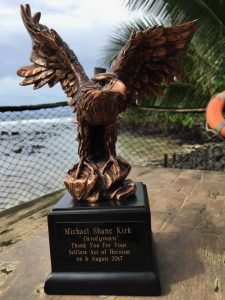 hung from under a rock just off the edge of the reef at Alega Bay that Sunday afternoon.
He was able to bring Chung up to the surface and managed to take him to shore where mouth to mouth resuscitation was applied.
While the 32 year-old serviceman coughed up water and was rushed to the hospital in an ambulance.
He didn't make it.
Candyman himself fell unconscious and was taken to the hospital.
He and his wife Tisa were among mainly army officials and retirees who attended a memorial Friday for SFC Chung.
A group of Army officials who were here for the  memorial service presented Candyman the award last Thursday after they feasted on a umu that the hero and his wife provided at Tisa's Barefoot Bar.