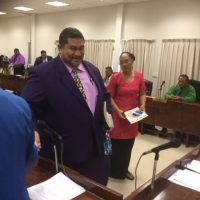 Tomorrow the House Ways and Means Committee begins reviewing the administration's revenue bills..
The first one is HB 35-7, which  calls for the gradual repeal of the 5% excise tax on commercial goods., taxes non carbonated drinks which currently are not taxed, changes the tax on alcohol from 190% to 35 cents per 12 fluid ounces and imposes a 25 percent tax on heavy construction equipment that is used for construction other than for public roads,
Witnesses for the hearing tomorrow include the Treasurer, Attorney General and Director of Commerce.
New members of the American Samoa Economic Development Authority Board will face a confirmation hearing on Thursday morning before the House Commerce Committee chaired by Rep Sam Meleisea Thursday morning.
The new nominees are Chief Procurement Officer Dr. Oreta Crithon, Director of Public Works Faleosina Voigt and Deputy Director of Commerce Willie Leauanae,
In his nomination letter the governor said that the replacements are for members of the ASEDA board who are serving on the Board of the Territorial Bank of American Samoa,
The Committee chairman who will br conducting the confirmation hearing Tuala- uta faipule Meleisea also sits on the ASEDA Board.
This morning Rep Timusa Lam Yuen asked that ASEDA, which raised $79 million from a bond sale in 2015, provide reports on any unspent bond proceeds, and an accounting of bond repayments.
Timusa said since there are revenue measures before the Fono it's appropriate that House members have a clear understanding of where the ASEDA board stands with the spending of bond proceeds and repayments.
Acting House Speaker Fetu Fetui suggested that the confirmation hearing for the new board members be conducted first.