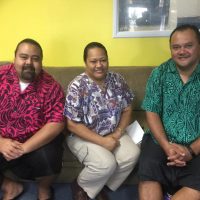 Parents are urged to pay particular attention to the children during the current dengue fever outbreak.
A lot of children are being seen at LBJ Hospital and the health centers with symptoms of dengue.
There are now over 1,000 suspected cases and 139 confirmed cases from November of last year to August 8th, 2017.
The two epidemiologists at the Department of Health, Magele Scott Anesi and Aifili John Tufa, explain why parents should ensure their children are protected from mosquito bites and exposure to dengue fever.
Play Audio
Tags: