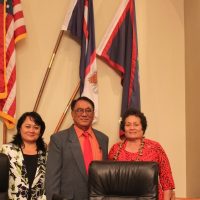 American Samoa's only medical facility needs more than added doctors or a replacement facility…Congressional lawmakers charged at a US House hearing, it needs better handling of its Medicaid funding by the local and federal governments.
KHJ Washington correspondent Matt Kaye reports—
Three territorial lawmakers, including American Samoa's Aumua Amata Radewagen, wanted to know why American Samoa, which House Resources members visited this year has failed to spend down more than $150-million in Obamacare Medicaid at LBJ Hospital.
That money expires in 2019, if not expended.
Radewagen, the CNMI's Greg Kilili Sablan and Puerto Rico Resident Commissioner Jennifer Gonzalez, challenged American Samoa's Medicaid Chief Sandra King Young for an explanation. Radewagen–
Play Audio
Radewagen argued that local officials should have approached Congress, the Centers for Medicare and Medicaid Services or the Secretary of Health and Human Services earlier, for a solution to the Obamacare or Affordable Care Act dilemma.
Medicaid Chief Young had herself criticized Radewagen recently for not fighting the Republican Party hard enough to get more Medicaid funding for American Samoa, a claim Radewagen's office strongly denied.
Young responded to Radewagen's counter attack at this week's hearing—
Play Audio
Young agreed with Radewagen, part of the problem is American Samoa's own Medicaid program.
She said nothing changed for35-years. Now, in the last few years,Young says negotiations with CMS are starting to yield results—but slowly.
LBJ CEO-Director Taufete'e John Faumuina says the hospital has had to use creative solutions to stay 'afloat' and avoid losing CMS certification–
Play Audio
Medicaid Director Young recommended the Insular Affairs Subcommittee introduce authorizing legislation to construct a new hospital in American Samoa to replace the 50-year old LBJ hospital, damaged in '09 by an earthquake and tsunami.
She says American Samoa has already secured a potential site for construction.