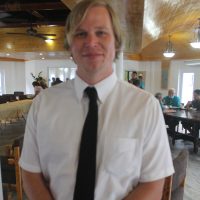 An economist from the US mainland has joined the Department of Commerce and has been assisting the ASG revenue Task force develop its revenue package to be submitted to the Fono.
Nathaniel Clayville  comes here after serving as the deputy chief economist for the state of Idaho.
In the month since he's been here, he has helped the ASG revenue task force with economic models that have been used to develop tax revenues to be submitted to the Fono.
Anderson who attended the task force briefing for the Fono yesterday says he sees the same economic forces and dynamics at play here , even though American Samoa dwarfs in size to Idaho.
Our Tauva Esera asked him for his assessment of the territory's economy.
Play Audio economist