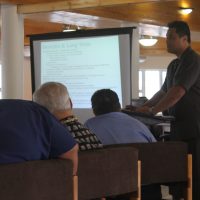 Payroll deductions for ASG employees  will resume next month .
This was revealed by the Chairman of the ASG Revenue Task Force, Attorney General Talauega Eleasalo Ale, during a presentation for the Fono yesterday.
Payroll deductions were discontinued in 2013 by then Treasurer, the late Falema'o Dr. Phil Pili who said that this was a service which only government employees and certain businesses were  benefiting from, and was not fair on other residents.
He also said that the service cost ASG money.
At that time., ASG was making payroll deductions for employee loan payments, utility bills, insurance payments and hospital bills.
After the service was discontinued ASG maintained just the payroll deductions for LBJ Hospital, the Development Bank , the American Samoa Telecommunications Authority and the American Samoa Power Authority.
Talauega said in his presentation for the Fono yesterday, the task force proposes a $1 fee for payroll deductions.
He said the fee doesn't need Fono approval, it can be established by executive power.