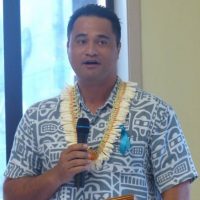 As the Fono gets ready for the start of the second regular session of the 35th legislature next Monday the administration appears to be strategizing for passage of key legislation.
KHJ News has learned that tomorrow the Fono leadership, senators and representatives will get a briefing from the governor's Revenue Task Force, and Governor's Office staff concerning revenue measures being proposed by the administration.
The Task Force headed by AG Talauega Eleasalo Ale has kept a tight lid on its plan to shore up government revenues which have been waning since the start of the current fiscal year.
The American Samoa Chamber of Commerce also received a presentation from the Task Force last month however no details on specific revenue generating measures were unveiled.
Reliable sources have shared that a sales tax is included in the Task Force's recommendations.
There's also a possibility that the 2% wage tax increase would be eliminated,
In their mandate from Governor Lolo when it was established in January of this year  the Revenue Task Force was to review existing revenue generating legislation and recommend amendments to those found to be obsolete and irrelevant.
The Task Force members are Ueli Tonumaipe'a, Catherine Saelua, Keniseli Lafaele, Taimalelagi Dr. Claire Tuia Poumele, Keith Gebauer and Iulogologo Joseph Pereira.