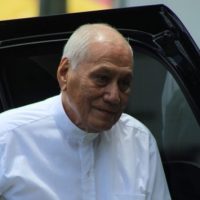 Samoa has a new Head of State.
This morning the 50-member Parliament voted unanimously for a  of the Council of Deputies or Council of Deputy Heads of State, Tuimalealiifano Va'aletoa Sualauvi II, to become Samoa's Head of State for the next five years.
This follows a caucus vote by the ruling Human rights Protection Party last night for Tuimalealiifano to replace Tuiatua Tupua Tamasese Efi in the position.
The Speaker of Parliament introduced the motion by HRPP for Tuimaleaaliifano to serve as the new Head of State and the motion was passed unanimously by voice vote.
The election of Tuimaleaaliifano ends the service of the current Head of State Tuiatua Tupua Tamasese Efi who has held the position since 2008.
Tuiatua's second term as Head of State ends July 25.
Prime Minister Tuilaepa Sailele Malielegaoi said in parliament following the vote that the election of Tuimalealiifano was a historical milestone for Samoa.
He said the election was conducted democratically and noted that it was the will of God that Tuimalealiifano, who was in the running for head of state in the last two elections wait his turn to take up the seat.
The Prime Minister thanked Tuiatua for his selfless service for Samoa and wished the new Head of State well in his new position as the father of the nation.
Tuimalealiifano is a lawyer, and has been a senior police inspector, deputy commissioner of police and worked in the Attorney General's Office before setting up private practice.
A swearing in ceremony is to be scheduled in the coming days.
Click here for motion and vote