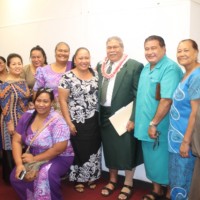 Two senior employees of the Department of Agriculture have been placed on leave while the department conducts an investigation on grants and local collections which they managed and handled,
Sources tell KHJ News that from the time Filifaatali Mike Fuiava was confirmed as Director of Agriculture, he has held many meetings with the two employees seeking an explain on department grants and handling of local revenues such as farmers registration fees which DOA collects.
According to our sources  the two were placed on leave last month and one has since handed in a resignation letter.
The second employee is still on leave.
KHJ News' attempts to get Director Filifaatali for comments were not successful.