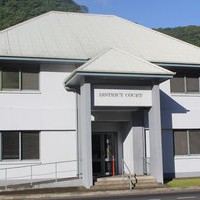 Twenty-five year old Faanenefu Hall was sentenced yesterday to 24 months probation for 3rd degree assault.
District Court Judge Muagututi'a Fiti Sunia imposed several conditions and said the court struggled even with the issue of the bond for Hall's release which the court set at $50,000.
The woman was initially charged with a felony charge of assault in the first degree to which she pled not guilty last week.
However through a plea deal with the government, Hall changed her plea and the charge was amended to 3rd degree assault.
Before pronouncing sentence, Judge Sunia told the defendant the only saving grace preventing her from serving time in prison was her children.
The defendant apologized and asked for the court's forgiveness for her actions.
She also apologized to the victim, her niece, and expressed remorse for assaulting her.
Prosecutor Assistant Attorney General, Woodrow Pengally noted that the defendant's conduct put her family in a lot of risks and caused serious injuries to the victim because of being angry while drunk.
Pengally said he's considered the fact that this is the defendant's first offense and she's a young mother with children who need her.
He asked the court for a 24 month probation term, for Hall.
Judge Sunia told the defendant this is a very serious matter which could have ended fatally.
He said alcohol is not an excuse and her children cannot provide an excuse for her behaviour but will suffer from her conduct.
The court deferred 60 days of imprisonment crediting the 8 days Hall has already served in the Territorial Correctional Facility.
She also has to pay a fine of $200 within 30 days.
The judge reminded Hall if she violates conditions of her probation, she will be back in TCF wearing an orange jump suit to serve the 52 days that the court has deferred.
Hall is also ordered to go through Alcohol Anonymous counseling and anger management with the Department of Social Services.