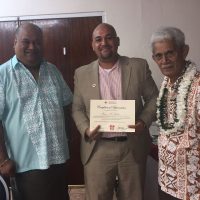 The Naumati Room at Tradewinds was last night brimming with local staff of the American Red Cross, board members, volunteers and supporters.
The occasion was an appreciation dinner to thank volunteers and also celebrate several milestones for the territory's oldest and well known charity organizations.
The mood was informal but heartfelt with members of government, businesses, churches and other organizations all coming together to thank volunteers not only for the talents they bring to the Red Cross, but for the time they selflessly give.
Val Tuilefano, the master of ceremonies for the evening, cheerfully worked the room calling out people and telling short stories about how they each got to work with Red Cross.
According to Tuilefano, the appreciation dinner was not only long overdue but a long time in the making.
With so many Red Cross milestones achieved of late, such as the completion of the new headquarters building and training sessions for programs new to the island, it took the help of a few special volunteers once again to make the evening memorable.
Play Audio
Guest Speakers for the evening were LDS Stake President Lotu Lei, Southseas Broadcasting General Manager Joey Cummings and Bella Asiata Iopu who talked about the mission of Red Cross.
Play Audio

Awards and certificates were distributed to many people in appreciation of their service.