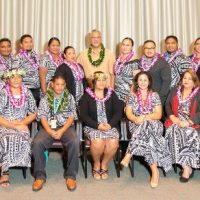 Two participants from American Samoa were among a class of 22 from throughout the U.S. affiliated insular areas who graduated from the 2017 class of the Executive Leadership Development Program (ELDP).
Jewel Tuiasosopo and Sapioamoa Galeai were awarded certificates of completion in graduation ceremonies at the East West Center, Hawaii June 9.
The ELDP was designed to help develop and retain qualified and skilled staff who will become future leaders of their respective governments.
It's funded by the U. S. Department of Interior's Office of Insular Affairs and administered by the Graduate School USA's Pacific Islands Training Initiative.
The other participants of the 5th ELDP came from Guam, Northern Marianas, Marshall Islands, Federated States of Micronesia, and Palau.
The class met four times over the past year to further develop their skills in leadership, management, government finance, program management, public policy and fiscal reform.
The classes took place in Guam, CNMI, Marshall Islands and Hawaii.
During each phase of the program, participants heard from guest speakers that included Guam Justice Robert Torres, CNMI Governor Ralph Torres, Marshall islands President Hilda Heine, and Rev. Francis X. Hezel,  among others.
In addition to developing an Individual Development Plan, ELDP participants identified mentors who they met with throughout the year and took part in reading and group assignments between training sessions.
A major component of the ELDP was group projects in the areas of health, education, environment, finance and budgeting and leadership, which participants developed throughout the year and presented on the final day.
Executive Director of the American Samoa Power Authority Utu Abe Malae was one of the instructors of the 2017 ELDP class.