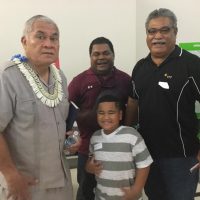 Executive Director of the American Samoa Power Authority Utu Abe Malae gave female students a plug during his remarks at the 1st STEM Summit Saturday.
Utu, a hydro engineer, said there was a cultural inclination to  overlook female students when it comes to Science, Technology, Engineering and Math subjects.
He urged that all students be given equal opportunities in STEM fields regardless of gender.
Play AudioUtu-STEM
The ASPA boss talked about a movie depicting the real life story of four African American women working on the launch of NASA's first manned space scraft…Hidden Figures.
Play Audio
Tags: