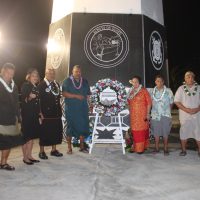 Wreaths were laid at sea, the Satala cemetery and the Veterans Monument in Tafuna yesterday in remembrance of men and women of the various branches of the US Armed Forces who died in the line of duty in centuries old wars and modern day wars.
Prayers were also offered for the loved ones they left behind and for the safety of those who are fighting in defense of freedom and peace today.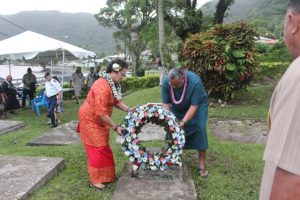 Lt. Governor Lemanu Peleti Mauga and Congresswoman Aumua Amata led the three wreath laying ceremonies organized by the Office of Veteran Affairs headed by VA Officer Mrs Rosie Tago Lancaster and the Governor's Office.
Military retirees, some dressed in uniform were also present, along with officers of the American Samoa Army Reserve.
At the VA Monument and the Satala cemetery, there were no speeches just the laying of wreaths.
After 7am, a small group boarded the Manu'atele at the inter island dock for the service to remember those who perished at sea, which was conducted inside Pago Pago Harbor.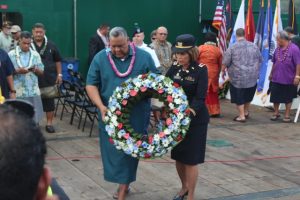 Deacon Malaki Timu gave the prayer.
Play AudioMD-Malaki
Lt. Governor Lemanu gave remarks in place of Governor Lolo Moliga who was not feeling well.
Lemanu said Memorial Day is a difficult day for those who lost loved ones while in service to their country.
He said parents, children and spouses will think of their family members who have departed from this earth and ponder on what could have been.
On behalf of the governor and people of American Samoa he paid tribute and thanked them and their families for their sacrifices.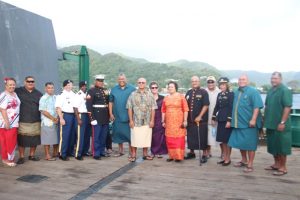 The lt. governor, an Army man, also remembered active duty men and women and asked for prayers for their safety so they can be reunited with their families.
Lemanu, Congresswoman Aumua Amata, Judge Satele Lilio, the president of the Veterans of Foreign Wars, Toelupe and Deacon Malaki then tossed wreaths and bouquets into the sea.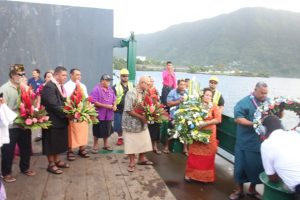 A police honor guard in formation at the bow of the Manu'atele fired a gun salute into the air while a bugler, dressed in a US marine uniform, played Taps.

Tags: