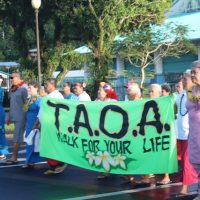 Senior citizens were the center of attention at Utulei this morning for Senior Citizens Day which brings to a close the 2017 celebration of Senior Citizens Week.
A parade from in front of Lee Auditorium to Suiga ula o le Atuvasa led by First Lady Cynthia Malala Moliga and Director of the Territorial Administration on Aging Office, Evelyn Lilio Satele started off the celebration, then at the park, special awards were presented.
98 year old Ioramo Ioramo received Congresswoman Aumua Amata's oldest senior citizen award from the Director of Aumua's Field Office, Pulu Ae Ae Jr.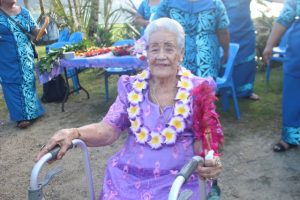 President of the Pago Pago Rotary Club Margie Tafiti presented the award for the oldest TAOA employment program participant,  Mrs. Hana Thompson.
Lions Club President Christopher King announced the recipient of the award for community services…Pulefaasisina Palauni Tuiasosopo.
Play Audio TAOA-nick
And the Governor's Chief of Staff Fiu Johnny Saelua announced the Governor's award for the oldest ASG employee, Senator Galeai Tuufuli.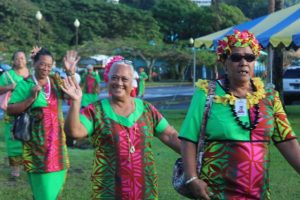 Governor Lolo Moliga in his address called the elderly mothers and fathers treasures and the source of knowledge and blessings.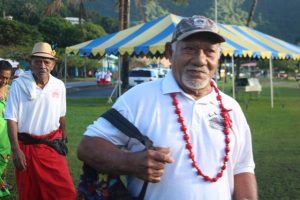 He said social changes taking place in the territory may have impacted the attention and importance placed on the elderly by their families and society.
The governor said how to transfer the knowledge and experience possessed by the assembled senior citizens to the younger generation is a challenge.
But at least here in the territory there is an avenue for the senior citizens to share their knowledge and values with the younger generation, said the governor.
Director of TAOA, Mrs Evelyn Satele thanked the governor and leaders who were present, her staff and had a special message for the guests of honor.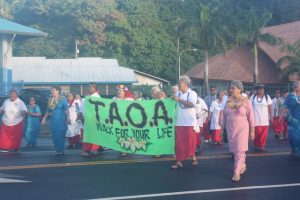 Play Audiotaoa-EVELyn

Tags: