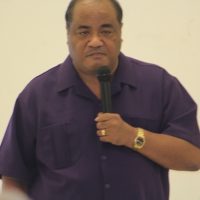 House Representative Puleleiite Tufele Jr., Chairman of the Board of the American Samoa Telecommunications Authority, is now the interim Director/CEO of ASTCA.
This was confirmed in a resolution approved by the ASTCA Board last week.
KHJ news understands that the vote was 3-2 for Puleleiite and Puleleiite was one of the 3 who voted for himself.
The dissenting votes came from Faiivae Alex Iuli and Alofagia Nomura.
The other two ASTCA Board members who voted with Puleeliite were Mrs Lagi Mauga Asuega and Omar Shalout.
Former Director of ASTCA, Alex Sene Jr, is now Head of Technical Services.
The appointment of Puleleiite as Interim Director has the blessing of Governor Lolo Moliga who told KHJ News yesterday, there are so many discrepancies at the semi government owed agency which need to be ironed out.
He said it was necessary for someone from the outside to come in and review the situation at ASTCA, rather than appoint someone from within.
Lolo said government money could have been saved if the discrepancies were identified earlier.
But rather than putting the blame on the board and management of ASTCA, the governor says he and Lt. Governor Lemanu are partly to blame for not keeping tabs of what was going on at ASTCA.
He said,"We appointed the board and trusted that they would do what's right."
The governor lamented, "you put people in these positions and they think that gives them the right to do whatever suits them."
Lolo declared, "ASTCA is not in good shape."
According to the governor, the director position is being advertised and the job is open for anyone to apply, even Mr. Alex Sene Jr.
In the meantime, Puleleiite will serve as interim head of ASTCA , taking charge of putting in policies to avoid some of the discrepancies that have been uncovered at the telecommunications authority.