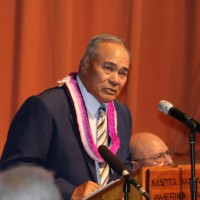 Governor Lolo Moliga speaks to graduates, teachers and parents in his graduation message.
He said it's is most fitting and appropriate for graduates to take pleasure in the accolades, congratulations , well wishes and praises extended by their parents, grandparents, family friends, community and government for they have sacrificed, persevered and worked hard to achieve this important milestone in their life journey.
For parents, he said graduation also manifests satisfaction and jubilation for their dreams for their children have been fulfilled.
Lolo said for teachers, graduation is solid affirmation that they have been diligent in instilling knowledge and values in each student to become a good and productive citizen of American Samoa along with the ability to get over life's challenges towards achieving their dreams.
The governor on behalf of Lt Governor Lemanu Peleti Mauga and First Lady Cynthia Moliga congratulated 1173 eight graders, ,175 high school graduates from public and private schools and 49 students graduating from the American Samoa Community College.
He extended sincerest congratulations to all and profound thanks to the graduates parents, and their families and the teachers for their investments in the future of American Samoa.