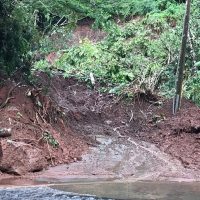 On Saturday the road to Fagamalo was temporarily opened for the first time since one of the biggest landslides in recent history covered the road with mud, boulders, trees and debris at Malota on Wednesday night.
Public Works crews working under the direction of  Ite Matagia  had been at the site since early Thursday morning, working in the rain and sun to clear the debris,
The landslide also  knocked off power and phone lines to Fagamalo and personnel from the American Samoa Power Authority and the American Samoa Telecommunications Authority were also at Malota.
The first to reach the village of Fagamalo were Lt. Governor Lemanu Peleti Mauga, Homeland Security Director Samana Semo Ve'ave'a, Deputy Director of Agriculture Peter Gurr, who lives next to the landslide site and Luki Tuitasi from Public Works.
There had not been any contact with the residents of Fagamalo since Wednesday night.
The lt. governor  and his group were able to verify that all 54 residents of Fagamalo village were safe.
Another landslide occurred Saturday blocking off access by road again on Saturday and no cars could get through,.
Public Works supervisor Matagi, has said that it will take several weeks to clear the landslide and Public Works would need bigger heavy equipment to tackle the job.
Praise has come for the M&O crew which has been working under dangerous conditions to clear the landslide, at a time when they are under reduced work hours and overtime pay is being scrutinized.
One resident of the western tip of Tutuila who has seen Matagia and his crew at work say they have been selfless, putting their own lives at risk as the rain has continued raising the possibility of another landslide occurring,
The resident said he hopes the crew will receive overtime pay or their efforts.