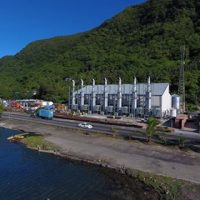 The 24.5 MW power plant at Satala is expected to be commissioned on May 25th 2017.
This was highlighted in a report distributed to members of the House's ASPA Committee at a hearing this week
The old Satala Power plant was destroyed in the 2009 earthquake and tsunami.
The Federal Emergency Management Agency, ASPA's tsunami proceeds and local funds is financing the more than $70 million program.
A payment balance for contractor Louis Berger of $8,700,00 is awaiting completion of the project which is way behind schedule.
55% of the current electricity load for Tutuila is being provided by the Tafuna plant while 45% is coming from the Satala plant.
Once the plant is finished 75 % of the power supply will be supplied from Satala.
Chairman of the ASPA Board, Fonoti Perelini explained that the 7 generators at the Satala plant are 35% more efficient.
He said that ASPA will be able to reduce expenditures in fuel once the Satala replacement project is completed.
Fonoti says ASPA spends about $2.5 million every month on fuel and this spending will be reduced by 25% with the launch of the Satala plant.
.
There was no mention on whether there'll be any cost savings passed on to ASPA customers.