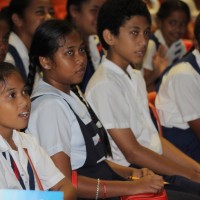 How can we be explorers like you? What are some of the interesting species you've found in local waters? Why is the work you're doing important?
These are some of the questions that more than 170 elementary, high school and college students gathered at the Tauese P. Sunia Ocean Center posed to scientists on board the research vessel Okeanos.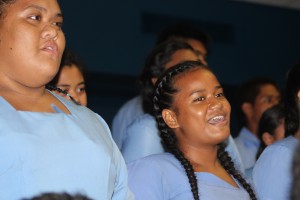 The vessel was about 80 miles from Pago Pago and scientists on board were exploring the ocean depths around the youngest underwater volcano in the Samoan islands, Vailuluu.
First the scientists and Okeanos crew got to hear a hymn and prayer by the students before each school did their cheers.
Play Audio
For the next 1 hour, there was a back and forth between the students and the scientists who were beamed live from the ship to a large size screen.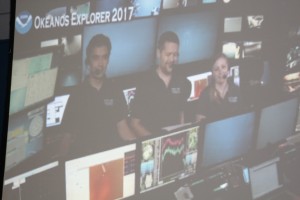 Meme Lobecjer is  the Co Science Lead Associate Professor on board the Okeanos.
Play Audio
The students got to see the live shots of the Remote Operated Vehicle that was scoping the ocean floor and going into crevices and places that have never been explored before.
They saw interesting looking fish, rocks , plants and weird looking marine life.


They heard the scientists explain what got them interested in ocean science and research.
They said that their work in local waters has been the most interesting and everyday they are discovering undocumented marine life.
The Okeanos will next be in port in April and the scientists encouraged the students to visit and find out more information about their exciting work.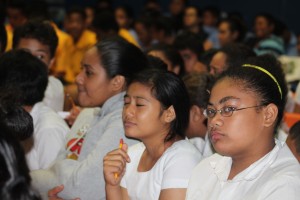 The interactive session between the Okeanos crew and the students is an example of the many learning activities carried out by the National Marine Sanctuary of American Samoa Office and the well equipped and resourced Tauese P Sunia Ocean Center.