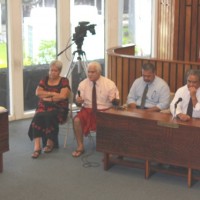 Remarks by the Chairman of the Retirement Fund Board to the effect that it's cheaper to hold the Fund meeting with lawmakers and investment and fund managers in Honolulu than to have it here have solicited angry reaction from our listeners and readers.
KHJ News received calls from government employees and reitrees upset over the Chairman's comments, and several readers of our website, talanei.com, have also registered their discontent.
Vaanatiu Iafeta Tofala confirmed to KHJ News earlier this week that the board had discussed holding the meeting here ..however after comparing costs, it's cheaper for the meeting to be held in Hawaii.
KHJ News points out that usually all members of the Retirement Committees of both Fono chambers get to attend the Honolulu meeting, along with the Fono leaders and a handful of staff members.
The combined total of the current House and Senate Retirement Committee is 27.
Add the Fono leaders and maybe 3 staff members, on top of that the seven members of the Retirement Fund Board, the director, assistant directyr and staff of the Retirement Fund Office, that comes tp more than 40 people going on airfares of about $1700 round trip.
The number of Fund managers and experts from Hawaii and the mainland who normally attend the meeting is about a dozen accoridng to those who have attended past meetings.
And their airfares would be much less than what Hawaiian Air charges for a roundtrip from Pago Pago to Honolulu
The per diem rate for Hawaii is about $200 a day but it gets tricky calculating the per diem rate for this trip because the travelers don't all go at once.
The Retirement Fund meeting is slated for February 22 and 23 , a Wednesday and Thursday, and it's scheduled that way so travelers from Americna Samoa can arrive the day before and return the day after.
In the past only new Representatives and Senators on the Retirement Fund Committees get to attend this meeting with the Fund managers for a briefing on the health of the Fund and also to discuss any needed legsialtion.
But now its become the norm for all Committee members to make the triup.