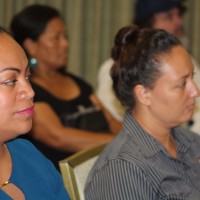 The Chamber of Commerce has been critical of ASG's burgeoning workforce, with statistics indicating that more than 80 % of the annual budget goes to payroll.
When the Acting Director of Commerce Kenisele Lafaele laid out the administration's road map for economic growth and diversification of an economy that has been based on federal grants, and the tuna industry,  he said that the numbers actually show a drop in ASG employment from 2010 to 2016.
A graph that Lafele showed indicates that in 2010 the ASG workforce numbered 6,782 but in 2016 it was down slightly  to 6,671.
In that same period the cannery workforce jumped from 1,553 (just after Samoa Packing closed) to 2,843 in FY 2016.
The figures are from Human Resources, ASPA, ASTCA, LBJ, and ASCC.
Lafaele said the chamber shouldn't be too overly concerned about ASG employee numbers.
Play Audio
Tags: