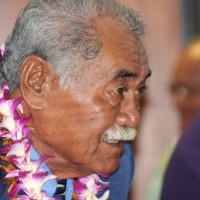 Western District Governor Lualemaga  Faoa died of a sudden illness at the LBJ Hospital yesterday.
Lualemaga , a paramount chief from the village of Aasu, has served in all branches of the American Samoa Government butr was perhaps most well known as chairman of the Senate Select Investigative Committee.
Lualemaga was an associate judge of the High Court, served a few termns as senator, was a special assistant to Governors  Aifili Paulo Lutali and Tauese Sunia and was just beginning  his second term as Western District Governor under the Lolo Lemanu Government, when he passed away.
That he earned a second term in this position was a feat because it was widely known that he did not support the administration in the last elections.
As chairman of the Senate Select Investigative Committee, Lualemaga often used phrases heard only in the court room, and some of us reporters referred to him as Perry Mason.
It was under his chairmanship of the SSIC that cases of corruption in government were well publicized in the media…some making their way to federal court and resulting in convictions and time in federal prison for some.
He was a friend of Samoa News and KHJ News because he was never one to back away from answering questions.
And he made sure the media was kept abreast of all SSIC hearings, referrals to the Attorney General's Office , and even up to when the Federal Bureau of Investigations was in contact with the SSIC over findings of corruption in high places.
Even when he was no longer in the legislature or any position in government, Lualemaga would render his opinion on events , people and issues in the news.
When he became Western District Governor, Lualemaga initiated clean up of school grounds and public areas which were covered with tall unkempt grass.
He was also the chairman of the Flag Day Fautasi Race Committee.
One of the last dealings we had with Lualemaga was during the bombings in France about two years ago.
As his village of Aasu is home to the graves of French sailors who were killed at the turn of the century, Lualemaga has always been proud of the association between his small village and France, albeit a tragic one.
He sent a message of condolence to the French president over the killings and chose to channel his message through France's honorary consul in Apia, the famous female fautasi Captain Vaimasenuu Zita Martel.
Lualemaga is survived by his wife Jessie, children and grandchildren.
KHJ News extends deepest sympathies for their loss.