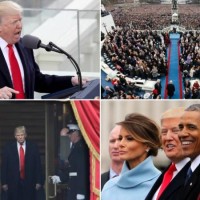 Amid great pomp and pageantry, but also much controversy, President-elect Donald Trump was sworn in as the nation's 45th president.
KHJ News  Washington Correspondent Matt Kaye was at the inaugural ceremony and filed this report—
Play Audio
Trump took the oath of office under cloudy skies and with great division in the country over his election and expected policies. Thousands turned out here to protest.
But the new president appealed for national unity in his inaugural speech to bind the country's wounds—
Play Audio
Congresswoman Aumua Amata Radewagen offered this, after the ceremony—
Play Audio
President Trump and his team pledge to 'hit the ground running.'
Trump will sign numerous executive orders in his first hours and days in office, reversing many of his predecessor's actions on immigration, health care, terrorism and business regulation.
Republican Radewagen was asked how much she expects her Democratic colleagues to cooperate with the controversial new president, especially after dozens of them refused to attend Trump's inauguration…
Play Audio
And as the new President moves aggressively on his agenda for the nation, Amata who continues to serve on House Natural Resources, Veterans Affairs and as chair of the Small Business Health and Technology panel, sees great prospects for American Samoa.
She will try to expand on her "Ensuring Access to Pacific Fisheries Act," passed in the last Congress…look for ways to give lawmakers more oversight of presidential marine national monument designations…finally pass cabotage reform…and ensure the islands get equal treatment with the states on health care and other programs.