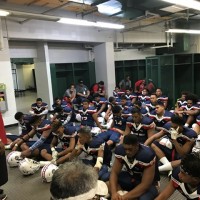 JPS Classic Week wrapped up Saturday in Honolulu and our football and volleyball teams head home tonight.
As John Raynar reports, while we are not bringing home the top trophies, our kids have benefited leaps and bounds from the exposure:
Both our 8th and 12th graders struggled in this year's JPS Classic losing both of their games on Saturday.
American Samoa's 8th graders fell to Hawaii East 48-0 in the first match up. The second game had our seniors facing off against Hawaii West.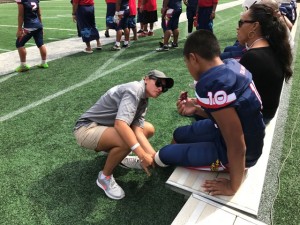 American Samoa was able to at least score in that particular event, but only once.
Final score was 43 to 6. As we told you earlier in our coverage the silver lining is the exposure that American Samoa gets to particular recruiters.
In this case the University of Hawaii was inquiring about Ralph Taufasau of Samoana
Coach Pat.mp3

Coach Pati there joining us and also naming other prospects like Tafuna's Pe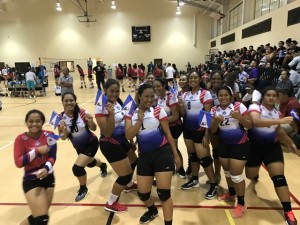 nei Pavihi and Fagaitua's Blessman Taala.
On Thursday in Volleyball American Samoa finished 2nd in the silver division, losing their first two sets to the High Intensity Club.
Frantacia Mauigoa was named MVP for American Samoa's Volleyball team.
Play Audio

Frantacia Mauigoa of Tafuna there speaking with us.

All of our JPS teams are returning home on tonight's Hawaiian Airlines flight.

JPS Coverage is being presented by Hawaiian Airlines and is sponsored by Carl's Junior, McConnell Dowell, Purse Seine Samoa, the Feleti Barstow Public Library, SOPAC and Island Cargo Support.  From Alamoana, this is John Raynar reporting.

Southseas Broadcasting Inc. covered the main games in Honolulu as part of our commitment to developing opportunities for our youth.

Job well done, John Raynar, Sia Atofau, Justin Maga and GM Joey Cummings.

Tags: