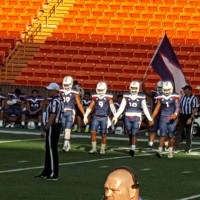 In the second annual Junior Prep Sports classic American Samoa didn't fare as well as last year where we defeated their seniors.
However, we didn't go scoreless either.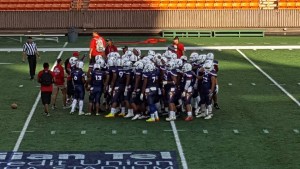 Ramos Fano found Ralph Taufasau inside the redone to set up a touch down n a quarterback draw.
That was American Samoa's loan score of the game where the final score was Norcal 28 to American Samoa's 6.
Play Audio

Offensive Play Caller Kolose Ili there with us in the locker room.
American Samoa will play Hawaii on Saturday, head coach Pati Pati talks about moving forward
Play Audio

Defensive coorindator Okland Salavea said tackling was an issue for American Samoa in giving up some many long yardage runs that resulted in Touch Downs.
Coach Okland.m3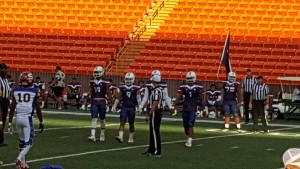 The silver lining of this trip regardless of wins and losses is the exposure that American Samoa gets to off island recruiters. Remember last year it was Cheyenne Sanitoa who picked up an offer from the University of Hawaii after posting interceptions against a game we ended up losing against Hawaii.

This year it's Samoana's Ralph Taufaasau, Vimoto Mageo and Fagaitua's Tui Ah Chong who have caught the eye of Keiki Misikipeka of Garden City State University.

So to close out football on this update, our 8th graders and 12th graders face off against Hawaii on Saturday in their respective divisions.

On to volleyball, our girls head out to Castle High School once again to finish their 8 team pool tournament and we'll keep you posted on that.

JPS coverage is being presented by Hawaiian Airlines and is sponsored by Carl's Junior, McConnell Dowell, Purse Seine Samoa, the Feleti Barstow Public Library, SOPAC and Island Cargo Support.

From Aloha Stadium this is John Raynar for 93KHJ and V103.

Tags: