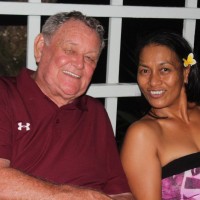 The chairman of the Board of Directors of the American Samoa Visitors Bureau, Mr. Tom Drabble, is suggesting an amendment to the make up of the board so that there's better representation from people with experience and drive to take charge of the territory's tourism development.
Drabble, owner of Sadie Thompson Inn .and Sadies by the Sea, says the present language defining who should be members of the board is limiting.
He revealed that the current board is having problems getting a quorum.
He says the only members who have been active are Deputy Director of Commerce Uili Leauanae, the local Station Manager of Hawaiian Airlines Tuli Fruean and himself.
Also on the board is the Deputy Secretary of Samoan Affairs Tuiagamoa Tavai but Drabble says he has never made it to a board meeting.
Mrs Betty Cavanaugh was also nominated but she lives in Honolulu and never attended confirmation hearings.
Drabble says he's recommended that the language in the law establishing the Visitors Bureau be amended to remove the specific definitions of who should be a board member.
The law says the Board of the American Samoa Visitors Bureau shall comprise of:
1 selected from the Office of Samoan Affairs;
2 members selected from the American Samoa Visitors Association (ASVA) from individuals who possess at least five years experience in the airline, travel agency, or hotel or lodging industries. The individuals selected under this subsection cannot be from the same industry, and not more than one may be selected from individuals residing outside of American Samoa;
1 member shall possess at least five years experience in the cruise ship industry, and currently employed with, or owns a cruise ship agency service.
1 member shall be selected from the American Samoa Chamber of Commerce; and
1 member shall be selected from the National Park Service of American Samoa.
Drabble says the criteria for board members should be broadened instead of being limited.
He said the membership should be opened to people who have experience and are willing to help develop the tourism industry.