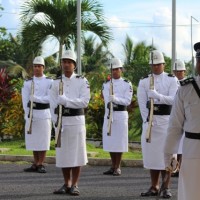 The body of a man found in the sea off Levi, Saleimoa has finally been identified four months after he was found.
Police spokesman Su'a Tiumalu Lemalu told the media today, the man has been identified as Fa'aaliga Onofia Seumanutafa, 46 years old of Matautu-uta.
Su'a said the body was identified by the man's sister who confirmed the tattoo on his arm with the word Warrior below the tattoo.
Police said the sister explained that the man has been away from their family for long periods of time as he worked on fishing boats in American Samoa.
The sister also explained that they noticed a change in the man's mental status after long absences overseas.
The sister gave the police a detailed statement yesterday and documentation have been completed for the Coroner's decision on the body.