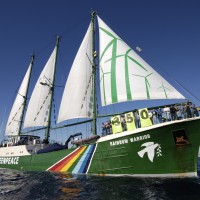 A Greenpeace Pacific campaigner on fisheries issues says an international agreement to reduce the fishing of tuna by limiting the number of vessels that fish in various oceans has largely been ignored.
Under the agreement which has been in place since 2009, tuna fisheries management bodies like the Western and Central Pacific Fisheries Commission, agreed to control the number of fishing boats that can fish in various parts of the world.
Fiji's Lagi Toribau, one of the highest ranked Pacific islanders in the Greenpeace environmental organization, said fishing countries are manufacturing fishing boats in large numbers, an indication that the agreement is being ignored.
Play Audio
Tags: