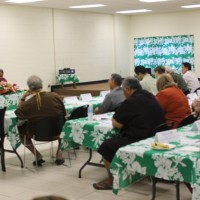 Statements by Governor Lolo at his final cabinet meeting last week indicate that the public school system is going to get an overhaul.
As he wraps up his first term as Governor Lolo said that the quality of education needs to be improved.
He said he has shared with Attorney General Talauega, ASPA Executive Director Utu Abe Malae, and Director of Human Resources Le'i Sonny Thompson, that the educational system must be reformed.
He said ideas are needed to run the Department of Education and he has not yet decided on whether to select a person or group to deal with DOE.
Lolo said more than one brain is needed to run the department.
Play AudioLolo education system
The governor asked directors to give their ideas and advice on ways that the educational system can be improved because we have seen problems in the last four years.
Lolo didn't elaborate on the problems but its common knowledge that the majority of high school graduates entering the American Samoa Community College fail English and Math entrance tests.
The governor admonished the cabinet, "we must do better in the next four years."
Since the resignation of former Director of Education, Vaitinasa Dr. Salu Hunkin to run for Congress, two deputy directors, Philo Jennings and Faaui Vaitatutolu have been sharing director responsibilities.