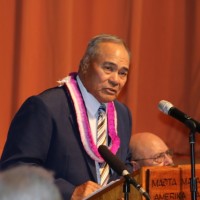 Christmas is more than the exchanging of gifts or engaging in festive activities and celebrations, says Governor Lolo Moliga.
"It is the symbol of hope, renewal, restoration, humility, and compassion."
Governor Lolo says in his 2016 Christmas Message that, "Christmas gives us the opportunity to renew our lives for the better.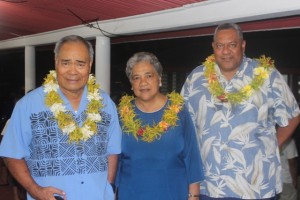 "It means restoring strained relations with loved ones or others deemed to be our enemies. It teaches us humility and it should compel us to be generous in the art of giving to make lives better."
"For all Christians, the birth of Jesus manifested God's greatest gift to man and simultaneously fill us with hope. It means that forgiveness and salvation is eminent as our sins would be absolved by the Son of God.
He urged that we use this Christmas as an opportunity to provide hope to others in what we do; practice renewal by committing to becoming a better person; engage in restoration by reaching out to long lost family members and friends; put into practice the art of humility and modesty; and become the fountain of benevolence and generosity not just for Christmas but for the rest of our lives.
Lolo also calls on the territory "to remember the destitute, the impoverished, the homeless, the oppressed, and victims of torn apart nations perpetrated by enslaving political ideology."
He also urges residents not to forget our men and women in uniform stationed in distant lands, "continuing to provide the "Blanket Of Freedom" we have often taken for granted."
On behalf of Lieutenant Governor Lemanu and family, First Lady Cynthia and himself and their family, Governor Lolo, wishes everyone "a Christmas that is laced with the peace of God and may each family and resident of American Samoa experience a Christmas that is joyous, peaceful, and free from any anxieties."

Congresswoman Aumua Amata called her Christmas greeting in from capitol Hill.
Play Audio
As leader of the Catholic Church in American Samoa, Bishop Peter Brown wishes the territory a blessed Christmas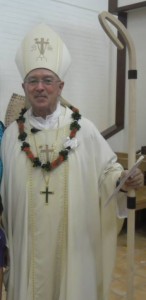 for 2016.
He said, "For us here in the territory and the whole world, the Holy Family of Bethlehem recalls for us the everlasting meaning of Christmas.
"That God, because of His great love, gave us His Son Jesus, to remind us that we are created in His image. May our lives always reflect that of the Holy Family."
The Bishop asks that we spare a thought for those less fortunate.
"As we approach Christmas we are reminded of the desperate hardship of millions around the world; the starving, refugees, the homeless and especially those without hope.
"We are blessed in our Territory with plenty. While we enjoy our blessings, let us not forget those who have not. We especially pray for those who have recently lost employment in our Island.
The Bishop concludes, "May the Birth of Christ bless our Governor Lolo Matalasi Moliga, our first Lady Cynthia, Lieutenant Govenor Lemanu, our government representatives and our church leaders and their communities in the territory.
"In this season of joy and celebration, we especially hold up to the Lord our elderly, the sick and our children to His loving care. May the Child Jesus bless you all."