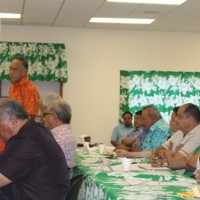 Today's cabinet meeting was the last with department and agency directors who served in the first four year term of the Lolo Lemanu Government.
All of the directors have submitted their resignations.
And Governor Lolo issued a memo today appointing deputy directors to serve as acting directors.
However a few agency directors will remain.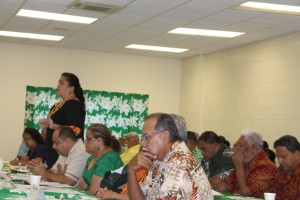 The governor made it clear at today's cabinet meeting that no changes are to be made until permanent directors have been appointed.
His memo appointing the deputies as acting directors said, "Except when instructed to do so, the acting director is restricted from making organization changes or reassignment of personnel and responsibilities.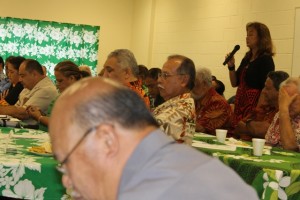 "The primary responsibility of the acting director is to ensure that the services of the department or the office to the general public are maintained at the highest level of quality.

"Moreover the acting director shall ensure that all existing policies are fully adhered to and that the respective workforce is fully engaged and productive, no new programs or projects are to be initiated unless specifically director to do so by executive leadership.

The directors who will continue unchanged are:

Keith Gebauer-Criminal Justice Planning Agency,

Uiagalelei Dr. Lealofi Uiagalelei- Chief Election Officer

Peter Tinitali-Office of Protection and Advocacy

Judge Toetagata Albert Mailo continues as Administrative Law Judge

Paogofie Fiaigoa who was appointed to head the Arts Council following the resignation of Uta Dr. Laloulu Tagoilelagi continues in that capacity.

Tapaau Dr. Dan Aga who was appointed as Acting Director of Agriculture also continues in that position.

Sandra King Young remains as Director of the Medicaid Office.

No acting directors have been named for Samoan Affairs and Public Defender. The memo said they are to be announced later.  Same with the Office of Insurance.

Here's the full list of acting directors:

EPA- Faamao Asalele

Administrative Services- Gago Faatafa Gago

Department of Commerce -Uili Leauanae

Department of Health- Faraitoafa Utu

Homeland Security – Jacinta Brown

Human and Social Services- Muavaefaatasi John Suisala

Human Resources -Eseneiaso Liu

Marine and Wildlife Resources -Selaina Tuimavave

Parks and Recreation- Kenneth Tupu

Port Administration -Christoper King

Public Safety -Vaimaga Maiava

Public Works -Falavai Taase

Treasury- Tina Vaa

Youth and Women Affairs -Pa'u Roy Ausage

Disaster Assistance and Petroleum Management -Salu Tuigamala

Procurement- Sapi Ma'o Ena

Program Planning and Budget -Aukuso Satia

Property Management -Poleen Asalele

Public Information -Tialuga Vince Iuli

TAOA -Kuresa Paopao

Territorial Audit Office- Loia Gutu

Territorial Energy Office -Talifa Vaiolo

The Department of Education is not on the list.

There are different effective dates for the acting director appointments.

The ones that are effective January 3, 2017 are Human Resources, Attorney General  and Public Safety, which would indicate that the current directors for these offices will continue serving until January 3 when the deputy directors take over.

Others are effective December 23, while the majority of the acting directors take over December 30th.

Tags: